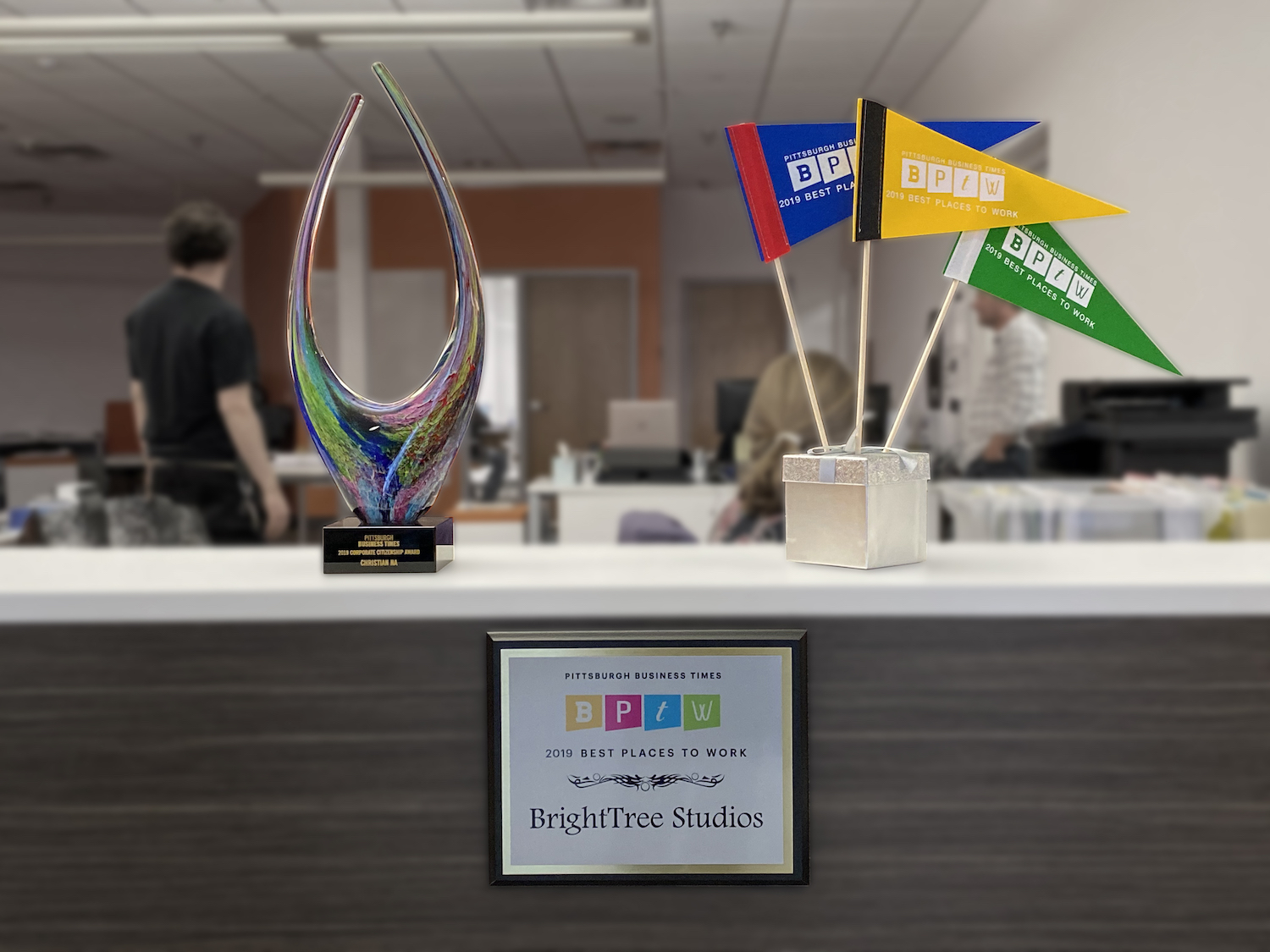 BRIGHTTREE STUDIOS AWARDED FOR
EMPLOYEE SATISFACTION AND PHILANTHROPY
We talk about ourselves and our work in superlatives. Fastest. Best ROI. Most innovative. It's all true and we could go on about why, but you've heard it before.
We've grown a lot since our inception, and as such, we've constantly needed to raise our own bar. We quickly realized there's so much more to a good tech firm than just its tech.
In 2019, we earned two new distinctions from the Pittsburgh Business Times, only the latest of our features in the publication, which has also named us among the largest veteran-owned firms in the region, as well as named our president, Bill McIntosh, CTS-D, a "Fast Tracker" when our company began to grow significantly.
This year, we earned Best Places to Work and Corporate Citizenship awards.
The Best Places to Work Award highlights the Pittsburgh companies with the happiest employees. Surveys that measure employee engagement and fulfillment are evaluated alongside company benefit programs, office amenities, and more. We were grateful to be recognized for values integral to our company philosophy – employee satisfaction and a culture of collaboration, creativity, transparency, and respect. Sound like your kind of workplace? Learn how you can join the dream team here.
The Corporate Citizenship Award highlights individuals and companies in Pittsburgh for social responsibility, including outstanding contributions to and collaborations with nonprofit, civic, and government organizations. Marketing Coordinator Christian Na was honored for leading our company philanthropy programs, which have sustained meaningful, ongoing relationships with several nonprofit organizations around the city. Interested in learning more? We post about our community work here.
We're proud to have earned these awards, and we aren't done yet – we plan to continue setting the standard high for our industry. We take after our city – working wonders, building bridges, and challenging the status quo. It's an honor to be among Pittsburgh's best and brightest.