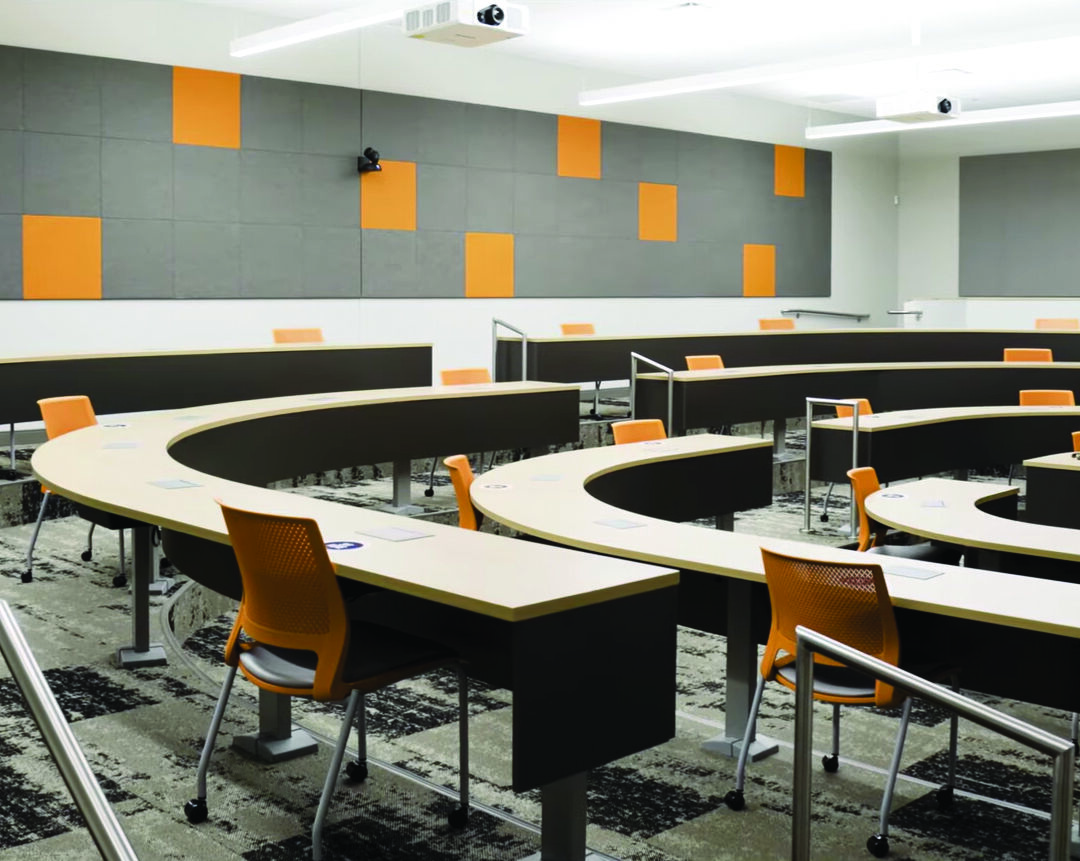 INVESTING IN ADAPTIVE LEARNING FOR FUTURE PREPAREDNESS
Amidst a pandemic both novel and indefinite, the exigencies of technology solutions for higher education have never been more apparent. Despite the urgency, colleges and universities have hesitated to implement COVID-conscious technology solutions, worried today's answers may not lend themselves to tomorrow's questions. What kinds of technology systems can address both the immediacy of a pandemic and the longevity of academia?
Conversations surrounding higher education's pivot in 2020 and through 2021 are nothing new, but until now, few have dared to champion the dialogue for learning technologies that can be adaptable both today and tomorrow. Enter BrightTree Studios.
Learning Experience
Technology is always useful, but it isn't always engaging. Critical to every technology environment is not only how it works, but how it feels.
We've designed technology systems for clients across countless markets. Offices, schools, libraries, athletic complexes, airports – each space unique, each one distinctive. But not really.
Do you remember the last time you were in a professional sports stadium? LED video walls spanning stories, live tickers with supplementary audio, interactive hall of fame exhibits, dynamic content on digital signage displays everywhere you look. What we've learned from stadiums we can apply in schools: people like technology that feels larger than life.
Consider academic and recreational buildings: most technology remains off until a professor arrives in a classroom or a program begins in an event space. Schools can augment learning/recreational experiences by creating engaging technology environments that are attractive to students, tell stories, offer multi-purpose displays that integrate dynamic content, and can even be used for impromptu productivity. We should ask what about higher education wasn't working before that incentivized remote learning. And we should determine what we can do to incentivize returning to learning in-person, in time.
Come COVID-19, we encountered the collective obstacle of accessibility – we couldn't experience the world together. No doubt, colleges and universities should build and renovate all facilities accordingly – live streaming has become king. Institutions should be able to provide their users/communities access to anything occurring on campus, from basketball games to high-profile lectures. Broadcasting video to other buildings and pumping audio from the atmosphere of the broadcast location can make secondhand impressions feel like firsthand experiences. And it doesn't have to be complicated – only broadcast audio and video over the Internet.
Smarter Budgeting
When racks and audiovisual equipment are removed from classrooms, we can create a single audiovisual system with singular capabilities: housing for all of the building's technology infrastructure, all in one place. With this power, universities can distribute sought-after presentations to every classroom and video screen throughout a building – no more worrying about space limitations in the actual presentation space. Similarly, students in a single class can learn together from multiple rooms to allow for proper social distancing while a live lecture streams to each space.
And why purchase expensive lecture capture equipment and video-conferencing gear for each classroom? Universities can purchase an appropriately small handful of the necessary technologies and share them between rooms upon request.
Fast Forward
What's the value-on-investment in the long run? With deliberately designed technology systems that accommodate distance-learning and foster a feeling of togetherness, delivered apart, universities stand to gain a handful of significant advantages.
By leveraging new virtual/experiential learning capabilities, universities can expand their brands to markets that were out of reach before. Many students don't have the means or ability to travel to a university far from home, but would prefer an education from such an institution nonetheless. Implementing distance-friendly technology systems and integrating them with hubs in satellite locations, universities can create "neighborhood" experiential centers that provide an education nationwide, supported by a rigorous virtual program with live instruction, and supplemented by interactive experiences within a real facility off-campus.
We believe that the skills we've learned from our shared experiences of working and learning remotely translate to in-person group settings. We can adapt our technology environments to reflect the best of what collaborating virtually has taught us.
What's more, universities can connect a campus community with its culture in a way that feels seamless and omnipresent via digital signage.
In recreational classes where students participate in games or sports, leaderboards can be posted throughout a facility or even the entire campus to encourage interactivity, connecting the community and inspiring competition. Minutes walked, points scored in online games, e-sport wins – the list of scorable (and, as such, shareable) content goes on. Games aside, connected campus displays can also provide an easy outlet for institutions to disseminate uniform messaging across campus such as COVID updates, public event details, local news, and other alerts and information.
Looking ahead
Nothing is future-proof, but we know our solutions are future-ready, pandemic or not. We believe in their long-term benefits, just as we believe they can help us rise to the many challenges we face today. Unquestionably, innovation like this will radically change higher education for years to come. By then, we may have perfected adaptive and accessible learning. At the very least, we'll have learned flexibility in the classroom.