An Immersive Football Recruiting Experience
Using Tech for a Personalized Experience | November 16, 2023
College football recruiting gets more competitive every year.
For universities that want to attract the top talent in the country, they must create a memorable recruiting experience.
When thinking about high-caliber athletes looking to play at the next level, they often receive full ride offers from just about every school they visit.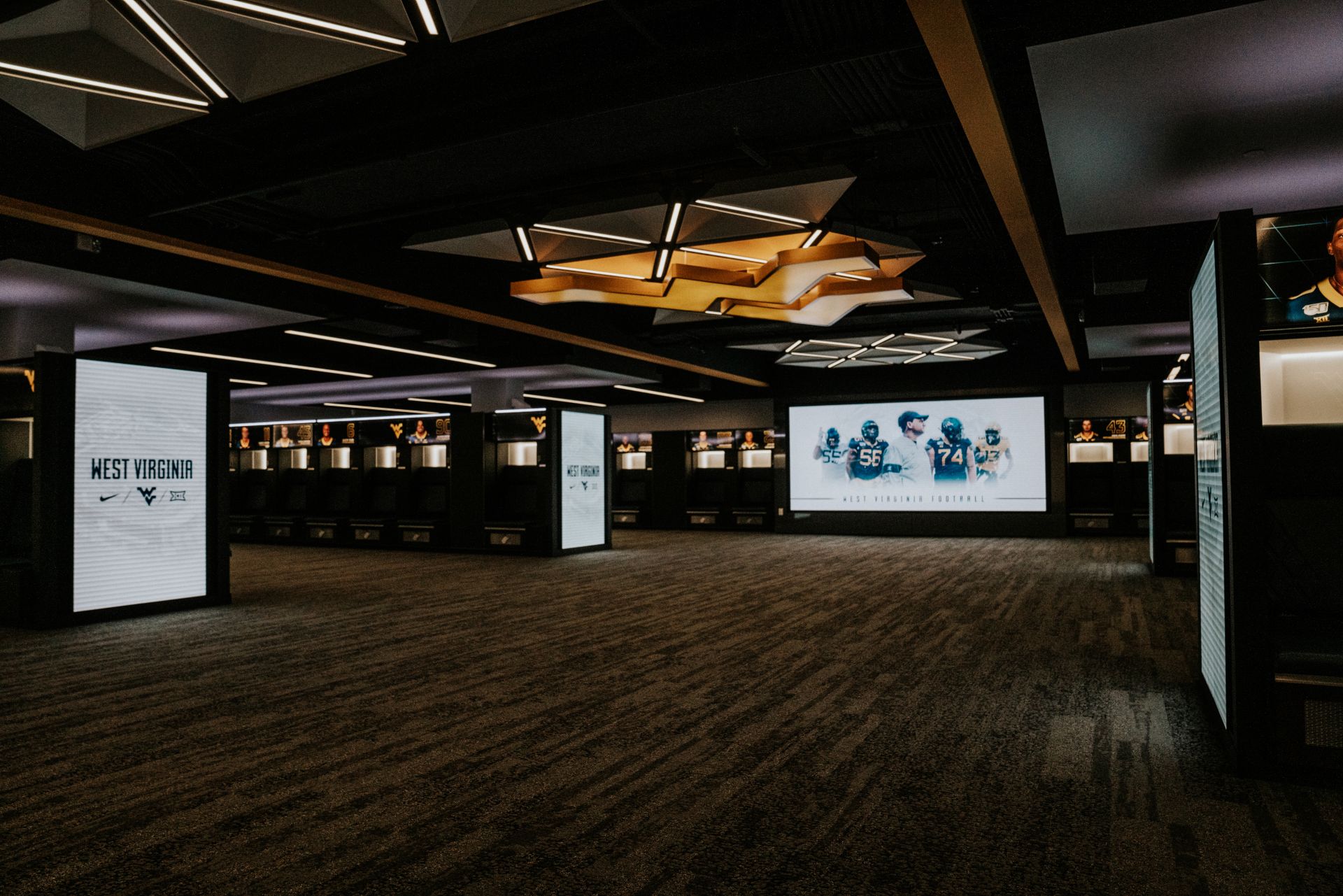 So, it's essential to create an immersive experience with university facilities. The best way to immerse recruits into the most exciting assets of the program is to include large video walls and screens throughout the entire facility.
With large video walls greeting you as you walk in the door, the recruit is immersed into exactly what it looks and feels like to be a part of the program.
Tying together video walls throughout the space brings together a cohesive, high-tech look.
An impressive locker room is another way to make a recruit excited about a program. Athletes spend a lot of time in the locker room for practices and games. Having a locker room with flashy technology is exciting for recruits to see how the facility can influence their gameday experience. Using massive video walls inside the locker room allows for complete personalization.
Additionally, video walls on the ends of every locker section create a unified visual experience, where custom content can wrap around the room and the screens can play off each other.
The team can play hype videos on game day along with the team's special gameday playlist. The synchronization of lights and audio, changing to the rhythm of the music, adds to the immersive ambiance.
On recruiting days, universities can customize this locker room experience to suit the specific athlete visiting. This can include playing their favorite artist's music or even showcasing their personal game highlights on the video walls—ensuring a truly personal and memorable experience.
To create an immersive recruiting experience, it's important to incorporate interactivity within the technology. Using an interactive screen where recruits build their uniform and can even customize their name on the back personalizes the experience.
They can tap and drag to view the uniform from all angles. The locker room is a highly personalized and captivating experience that can truly make a recruit envision themselves as an integral part of the team.
Showcasing NFL Talent
For some universities, a key selling point to athletes considering their program is the number of players who have successfully transitioned to professional athletes. One way to showcase these accomplished pros is through the creation of an NFL locker room.
This provides the university with a platform to highlight all the NFL players who have emerged from their program. It also serves as an avenue for these alumni to return to the university, either for practice or to see their permanent locker at their alma mater.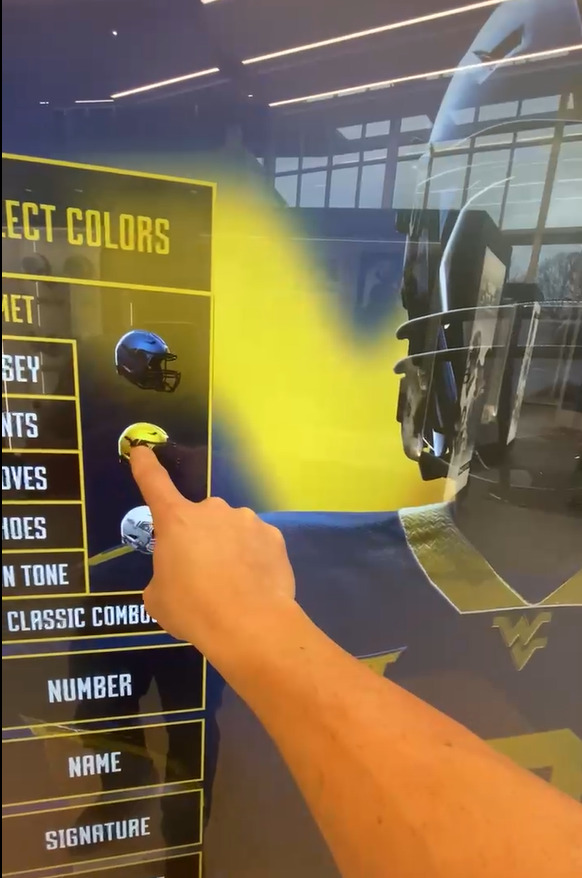 For recruits, the possibility of building relationships with NFL players or having the resources to become one themselves is undeniably exciting. It not only underscores the program's ability to nurture talent but also offers a tangible connection to the dream of playing at the professional level.
Another way to show off NFL alumni talent is through another version of an interactive screen. For this screen, you can select from a custom timeline and see highlights on a large video wall.
The university can customize this for certain NFL alumni, or important moments in program history. Recruits will see how much the program values their alumni and allows current players to feel connected to the athletes who came before them.
NIL Deals and Facilities 
Given the rising prominence of Name, Image, and Likeness (NIL) deals for NCAA athletes, these arrangements could increasingly influence how recruits choose a university.
Universities must provide the necessary high-tech facilities to help players secure and manage sponsorships. NIL deals and the resources available for them have become a pivotal factor for athletes when making their college decisions. NIL deals can offer income opportunities and open doors to post-college careers. 
To support these athletes and their music, podcasting, or TikTok careers, there should be areas in main athletic facilities to create content.
The best place to include this is in a player lounge. Including podcast and recording studios is a convenient way to help athletes score NIL deals.
Some universities go as far as including a barber shop in the player lounge, so athletes don't have to worry about driving off campus to find a place to get a haircut.
Incorporating a fun, carefully thought-out lounge for players to use or show off on TikTok is also a great advertisement for the program.
Athletes understand the commitment to hard work and practice, so having a facility that offers balance, convenience, and NIL opportunities is crucial.
From high school football through the NFL, film is one of the most important and time-consuming parts of being an athlete.
Separating film rooms for specialized positions is crucial for an efficient film experience. Teams spend a lot of time watching film, so it's important to give a lasting and engaging experience with good audiovisual materials, providing clear sound and great visuals.
These position-specific high-tech film rooms provide universities with a distinct advantage in terms of off-field preparation, elevating their capabilities to match the film experience that NFL teams provide. 
Technology has created a new type of recruiting experience for college football. It's important for university facilities to provide not only athletic opportunities for recruits, but also possible NIL deals.
Universities must maintain these facilities with specific technology that will maintain a modern look for years to come.
Using technology to create personalized, immersive experiences for recruits simplifies their decision-making process when committing to a school, and continues to inspire them after they're a part of the program.