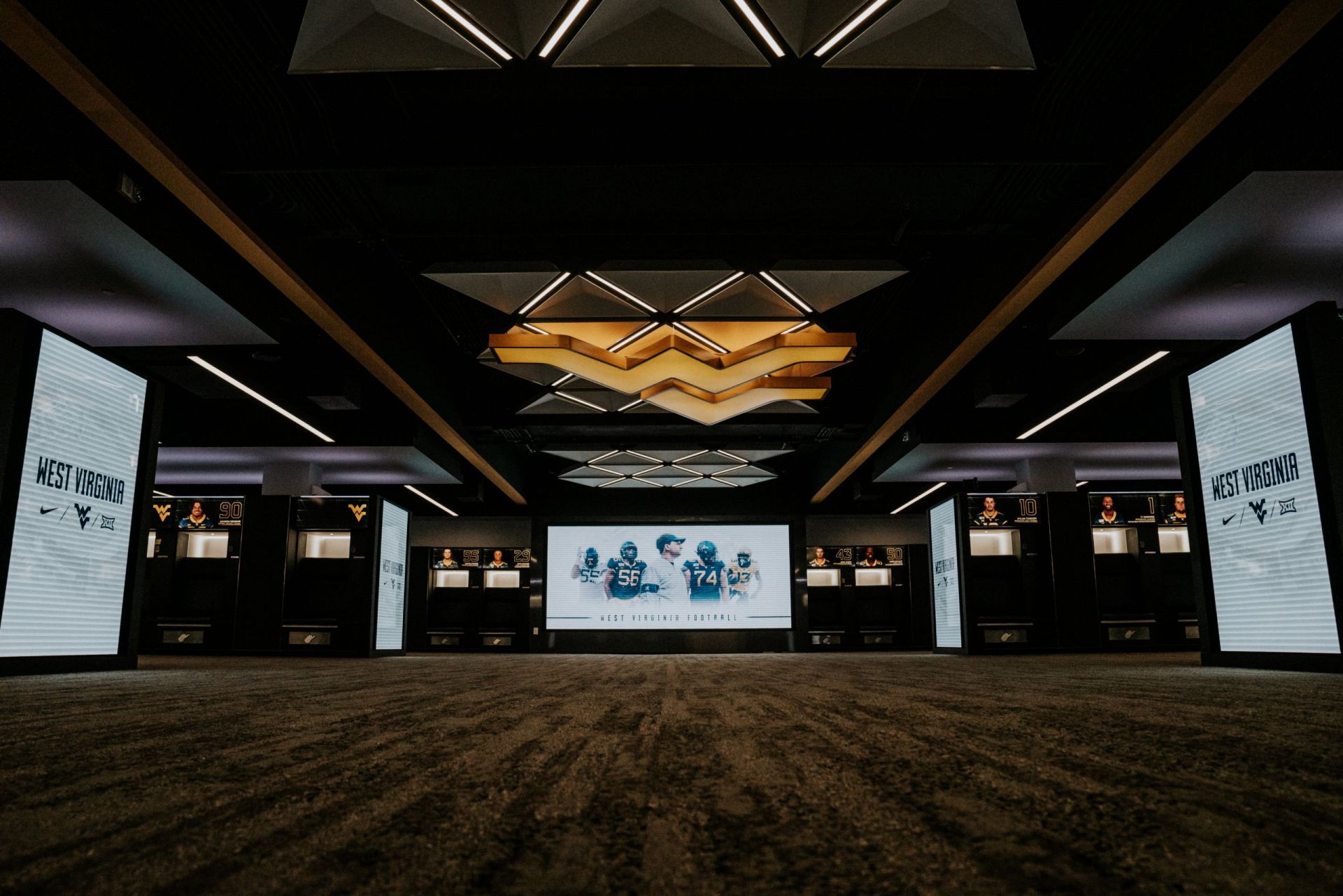 PUSKAR CENTER ATHLETIC COMPLEX
More than 85,000 square feet of expansion are expected to completely revolutionize the student-athlete experience at West Virginia University. The Puskar Athletic Center gives the WVU football team a home base fit for the pros. A fully outfitted locker room allows for the perfect pregame, athletes are able to connect their cellphones to the speaker system via bluetooth and set the lights & video wall to "game mode" with the help of a 10″ touch panel. Accompanying the 4 end caps of the lockers are 4 4'x7′ LED video walls, showcasing content during game days and recruiting events. Athlete's lockers are topped off with 43″ LED screens that are able to be personalized to each athlete.
Post-game, the team is able to review gameplay videos both in the locker room and in either of the large team meeting rooms. A 6,500-lumen laser projector displays video onto a 137″ ceiling-recessed projection screen. Ceiling speakers have been installed throughout the room to provide audio feedback from both the projected material and a wireless microphone. All technology in both large meeting rooms is easily controlled with a 10″ touchpanel.
On game days, fans will be greeted with the West Virginia University Hall of Traditions, featuring a massive video wall spanning 44′ wide and 9′ tall. Featuring spotlight moments from WVU Football's past, fans can interact with two 65″ touch screen displays alongside an interactive timeline exhibit activated by pressing down on the provided footballs. The main entrance of the building features a 22′ tall x 8′ wide LED video wall which will showcase photos and videos from games past.
Additional project components include a renovated athletic training room with a new hydrotherapy center, an academic center, a student-athletes' lounge, coaches' offices, an equipment room, and much more.