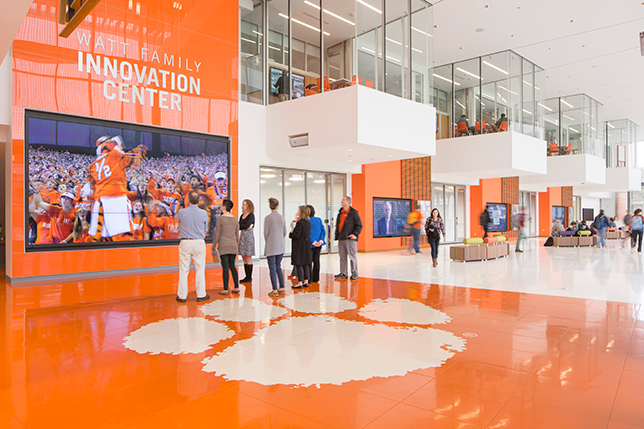 Innovation centers are becoming commonplace on university campuses, but few live up to the name as well as Clemson University's (SC) Watt Family Innovation Center — both in terms of architectural features and the array of technology and collaboration options available to students and faculty.
Opened in 2016, the four-story, 70,000-square-foot facility contains 73 spaces with audiovisual tools along with more than 4,300 pieces of hardware provided by 65 different vendors. It has become a natural home for Clemson's Creative Inquiry program, which emphasizes cross-disciplinary collaboration.
To support interactive learning and technology demonstrations, the Watt Center features 191 large-screen, high-res, touchscreen monitors. Videoconferencing applications and wireless connectivity enhance collaboration capabilities. The building contains 12 video walls allowing for big data visualization and immersion. The network infrastructure gives project users access to the university's high-performance computing resources. The Watt Center also enables virtual meetings with innovation centers across the state of South Carolina, including the University of South Carolina and the Medical University of South Carolina.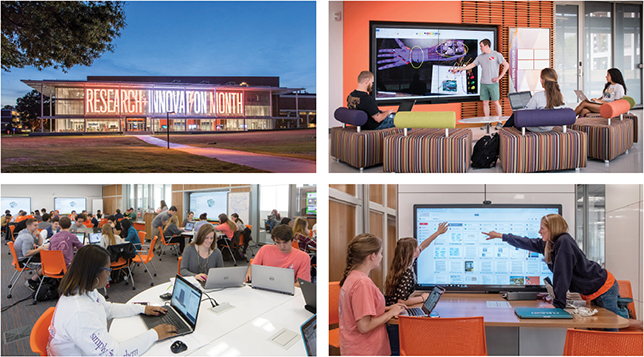 As part of Philips' contribution to the project, the building façade contains a 5,000-square-foot media mesh display system serving as a physical manifestation of the building's vision. The media mesh faces a quad that is a central student space on campus and can provide information on upcoming conferences to be held in the building.
The overall project required selecting and coordinating the work of a variety of vendors, including Cisco, Visix, Echo360, Brocade and Dell, which already had relationships with the campus, as well as a host of audiovisual companies with unique offerings.
Another example of the building's cutting-edge design: a Power-over-Ethernet-based indoor lighting system combined with LED lighting to improve energy efficiency. The system gathers historical and real-time anonymous data from each lighting fixture to determine when a room is being used. The occupancy sensors trigger lights to turn on and off, saving additional energy. All the lighting can be controlled from a single, tailored software console. "When you step in a room, the lighting adjusts automatically," Watt said. "Everything about the building has that kind of autonomy about it."
Watt is enthusiastic about how the building serves the university's Creative Inquiry program. "This gives them a place to come together," he said. "Even the hallways here have collaborative spaces. I see it as the first full-scale building to address the discipline of technology and how it enhances interactive learning." Ultimately, said Watt, "It is a first-rate building and I see at it as a model for higher education."
to read the article in its entirety, click here.