eSports in 'Control' of Higher Education
Designing Michigan's first purpose built eSports arena | November 15 , 2023
The eSports industry is valued at nearly $93 billion. Most universities and higher education institutions are beginning to incorporate eSports on their campuses if they haven't already. eSports programs and facilities are becoming selling points for students to attend specific institutions.
If universities want to attract students to their school with eSports, they're going to need facilities that stand out. One of our recent projects with Ferris State University's Center for Virtual Learning solidified their place as an eSports program leader. BrightTree Studios' Principal, David Vargo says, "The whole reason to build this facility is to give Ferris State this asset that no other schools in their division currently have."
The newly built Center for Virtual Learning houses Ferris State's eSports area—the first purpose-built eSports facility in Michigan. With the eSports arena, the recruiting process is already much easier for their program.
Ferris State eSports Director, Jonothan Eaton says, "Originally, it was me reaching out, going to schools, talking to kids, but now it's the other way around where most of my recruits are asking me, 'How can I come to Ferris?'"
He also pointed out that students from other programs have started transferring to Ferris simply to join the team, thanks to the great opportunities provided by the new facility.
The space is truly impressive, decked out with top-notch technology and tailored to hosting and streaming tournaments. Through our design process, we made sure to look at the 'little things' that make a huge difference in the production of an eSports livestreamed tournament.
One of assets that makes eSports tournaments run smoother is the separation between the arena, the production room, the shoutcasting room, and the judge's room. Vargo says, "Separating these three features is important."
"Originally, it was me reaching out, going to schools, talking to kids, but now it's the other way around, where most of my recruits are asking me, 'How can I come to Ferris?'"
– Jonothan Eaton, Ferris State eSports Director.
These careful considerations make a difference in the quality of the stream. "In the past, we've had the production area in the same place as the announcers. You don't see that in any other [sports] production—the director needs to yell commands in the booth, but you don't want that bleeding into the mics.
In the past we had to whisper to each other or text each other, but now I can actually direct without it bleeding into the mics," Eaton explains.
Another crucial element influencing the arena's streaming experience is the strategic camera placement in the arena. Cameras have been positioned around the room to capture not only the team's dynamic atmosphere but also the individual perspectives of each student's in-game character. The students have access to a top-of-the-line streaming setup that resembles the most popular Twitch streamers.
"We've got the eSports faculty, staff, and players who are used to watching streams on Twitch and YouTube. So, we wanted to have that same look and feel. That's a professional environment, ours should look like that," Vargo says. 
The streaming of eSports tournaments brings other opportunities, besides playing video games, to students. Students can get involved, learning how to run the production of an eSports stream.
Vargo says, "Building an eSports arena, not only gives a place for eSports to happen, but there's also ancillary schools that can take advantage of it."
Ferris State's eSports production major specifically attracts students to Ferris State because of the hands-on opportunities the eSports arena provides. This space brings real-life learning opportunities to students who are interested in creating eSports content, video editing, livestream producing and directing, or broadcasting the event.
Eaton explains, "The degree helps me recruit students. This incoming freshman year, I have three students that I've recruited to Ferris for eSports, who don't play on the team. They're just here for that degree program– they're just here to help us run our broadcasts."
The video wall located directly on the exterior side of the building gives the university the opportunity to broadcast their streams to anyone passing by.
Not only does the space work perfectly for streaming and other events, but it also helps improve the quality of their day-to-day practices. With the computers on the stage in the arena, Eaton can look at all the computers to help provide coaching and insight, rather than looking over one student's shoulder in a computer lab.
"It really helps me and my coaching ability," Eaton explains. "All of our teams here have improved significantly since we've had the space, based on the resources that we have here."
When you walk into the Center for Virtual Learning. It's impossible to miss the space. Not only is it located perfectly, thanks to our architect partners, Stantec, but the high-tech look and flashy technology inside makes you want to explore the space.
Our vision for the technology design was to create an inviting arena for students, sparking their curiosity and encouraging collaboration.
A Ferris State eSports player says, "The arena is great. It's definitely a place that people walk by and stop and look."
Eaton says students who don't even play on the eSports team love the space so much, they just go hang out in the arena. "I have a couple of students who aren't on any of my teams, they'll just come into the arena and do their homework. It's really nice to give those students a place to call home on campus," he says.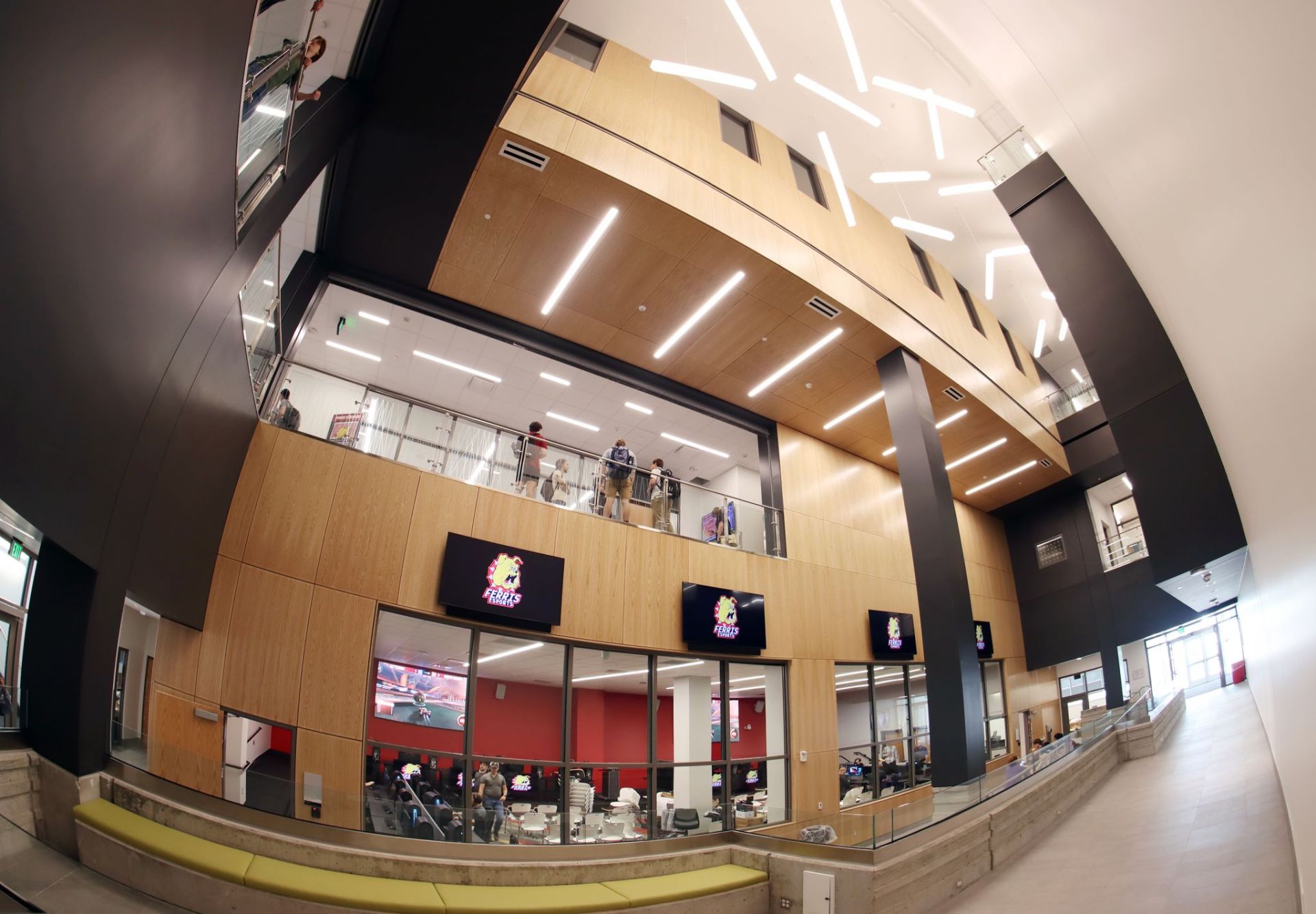 Vargo had a chance to see this happening firsthand. "Some of the students are helping the eSports director with production aspects. So, while they're not even in class, they're learning parts of broadcasting, of production. They're just helping out. It's really amazing. I haven't really seen it in many other schools, where the students come by to give a hand and learn how things work," Vargo said.
Having this eSports arena means that players no longer have to play tournaments alone in their dorms. They're able to play sitting next to their teammates and interact with one another in person.
"Winning close games next to each other, jumping up and screaming—it's just like a sports environment. You get excited. You get pumped. It's such a great thing to see in person," Eaton says. 
The players seem to like being in person with their teammates too. A Ferris State eSports player says, "When your teammate's playing bad, you can just look over and say, 'Hey look, it's alright. We got this.' And that type of comradery isn't something we've ever really had."
From what started as a remote club, which evolved into a 10-person computer lab, and now an entire 30 computer eSports arena—eSports has taken off at Ferris State. As one of the first 50 schools to have an eSports club, Ferris State has been a leader from the beginning.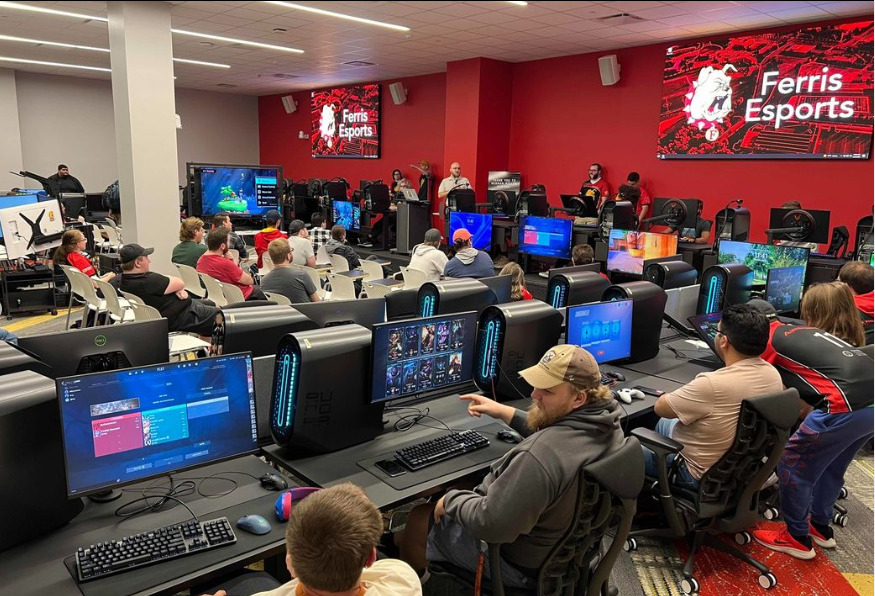 The Ferris State eSport team's numbers have almost doubled since opening the new arena. They have about 400 students in the club, with 156 of those being varsity members. The University has also been nominated as eSports institution of the year.
"We're very thankful for this new building. The Center for Virtual Learning is a very big part of the success we've had and the international recognition we've gotten from it – we're very thankful for BrightTree's help in all of that," Eaton says. 
It's no doubt that eSports is becoming an integral part of higher education. Universities are actively leveraging eSports to boost attendance and attract top talent. However, to truly stand out, institutions must provide carefully designed, state-of-the-art facilities that meet the specific needs of eSports teams.
"It's a really fulfilling project to be a part of, to see the student engagement—just the immediate payoff," Vargo says.
As eSports continues to flourish, universities that invest in both top-notch facilities and educational opportunities are well-positioned to lead the way in this exciting and rapidly expanding field. eSports brings together groups of students who may not have ever touched paths, and gives them a sense of belonging, school spirit, and future career opportunities.
"The Center for Virtual Learning is a very big part of the success we've had and the international recognition we've gotten from it – we're very thankful for BrightTree's help in all of that."
-Jonothan Eaton, Ferris State eSports Director.