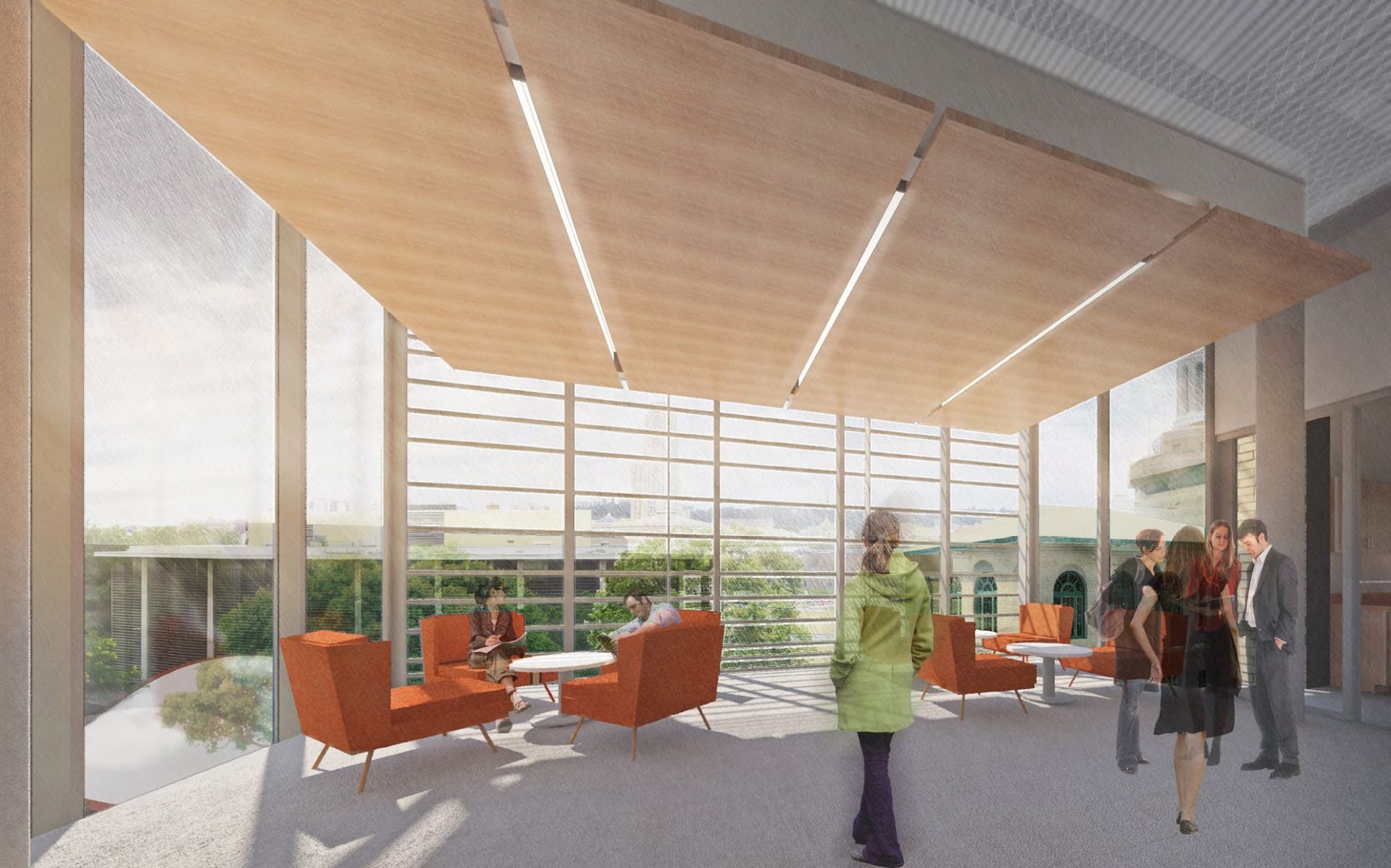 BRIGHTTREE TO DESIGN
TWO NEW CMU BUILDINGS
Two buildings set to open on Carnegie Mellon University's campus in 2020 will provide space for large-scale making, collaborative research and enhancing corporate partnerships. And they're designed so that visitors can watch some of the innovative work as it's happening.
National architecture firm Bohlin Cywinski Jackson announced their designs for ANSYS Hall and TCS Hall last week.
ANSYS Hall, a 36,000-square-foot, four-story facility for CMU's College of Engineering, will serve as the "last stop" for making in the school's "maker ecosystem," says Gregory Mottola, design principal with Bohlin Cywinski Jackson and a graduate of CMU's School of Architecture.
ANSYS is named after the Canonsburg-based engineering simulation software company which funded the building. An ANSYS simulation lab and research space will allow the company to serve as a direct resource to students and contribute to a cross-pollination of ideas.
The building will be situated between Hamerschlag Hall and Porter Hall.
Currently, smaller "nano" components are built in the Sherman and Joyce Bowie Scott Hall, while design and prototyping are done in Hamerschlag Hall. ANSYS will bring all of that together under one roof, Mottola says.
"They'll be able to take all of the small components and build much larger things," he says. Think: electric cars or engines.
A large glass-enclosed space will house an open showcase area where flexible, collaborative work will take place, allowing those on the outside to observe.
An outdoor maker court also will serve as a place where students can showcase their work and conduct peer critiques, Mottola says.
TCS Hall, funded in part by a gift from the global IT and business solutions company Tata Consultancy Services, will serve as "a new gateway to campus" for those entering from Forbes Avenue, Mottola says.
Because it will be the first building visitors see as they approach the campus from the west, Mottola says, "the building needs to stand on its own and be contemporary, but also feel like a part of Carnegie Mellon University."
That's a goal with both buildings: they'll include design influences from the historic buildings on campus and apply them in a contemporary way, Mottola says.
Tata Consultancy Services will occupy part of the 90,000-square-foot building on Forbes Avenue, along with CMU's School of Computer Science.
The building, designed to be highly efficient and flexible, will house a "student collaboration porch" that will promote cross-communication and connect people on a human level. It will also include a business engagement center providing space for the university to embrace industry partners, Mottola says.
The TCS building is set to open in the spring of 2020. The ANSYS building is set to open in the summer of 2020.
Read the original article here, courtesy of Stephanie Hack, NEXTPittsburgh.com. Image courtesy of CMU.